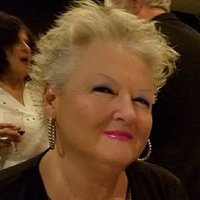 Victoria Scalzo
Victoria AllertonScalzo, 63
Victoria Allerton Scalzo, 63, a lifelong resident of West Orange, NJ, passed away on April 16, 2020. She was the third daughter of Thomas and Doris Allerton (both deceased). Vicki is survived by her son, Thomas, whom she raised since her husband's (Ronnie) untimely death in 2003; her five sisters: Christine (Robert- deceased), Donna (George) Sandra, Leslie (David), Karla (John); nieces; nephews; and greats.
Vicki was a 1974 graduate of West Orange Mountain High School. She later worked in the insurance industry and the dental field.
Vicki was a friend to everyone she met and gave of herself to help others. She enjoyed telling stories and included humor whenever possible as she loved to laugh. She always had something positive to say about everyone.
Born a water baby, she was at the town pool every chance she got and was surrounded by her pool buddies. She had loved to fish since childhood and went whenever she could. Vicki also loved going down the shore with her friends and family.
The loyalty, friendship, and love she had for family and friends will leave a gaping hole in the hearts of those who knew her. She truly loved her friends. But, above and beyond all else, Vicki's main joy in life was her only child, Tommy.
A memorial will be planned for Vicki when the social distancing order is lifted.
In celebration of Vicki's life, in lieu of flowers, etc, donations would be appreciated to help with the arrangements that her son, Tommy, is working through. Donations/contact may be sent to Tommy Scalzo, PO Box 322, Williamston, SC 29697