---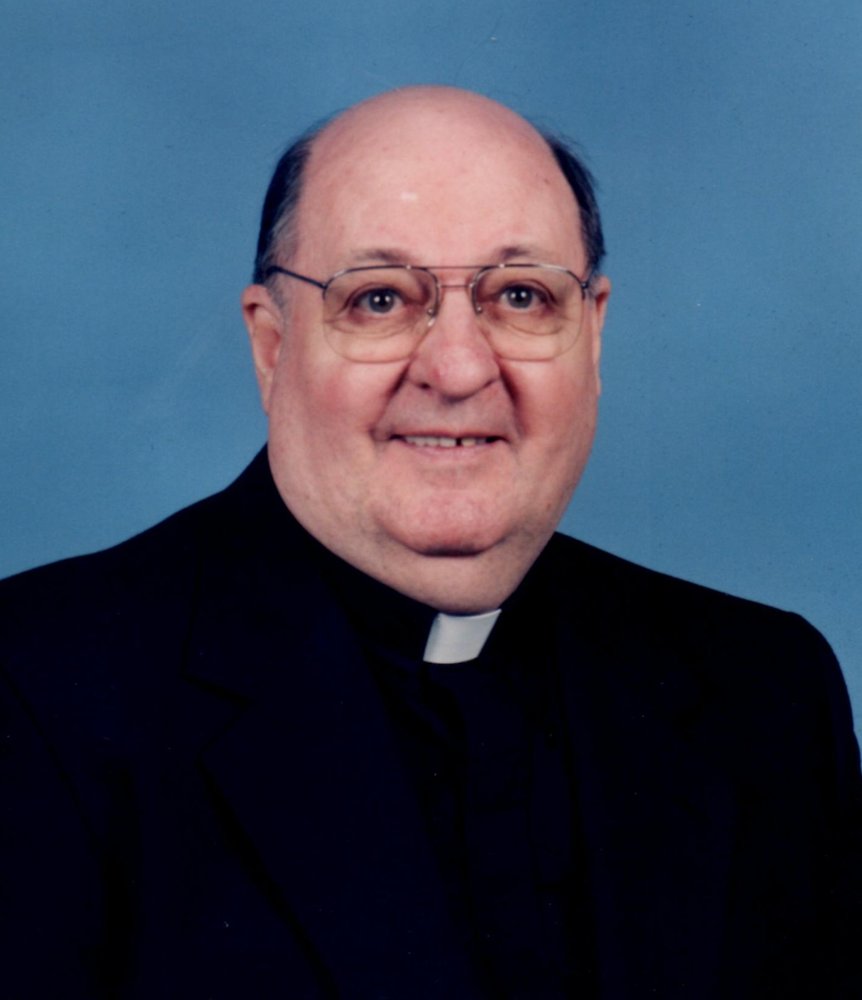 Visitation
10:30 am - 11:00 am
Tuesday, February 23, 2021
The Church of Saint Martha
3800 Herbertsville Road
Point Pleasant, New Jersey, United States

Get Directions
Funeral Mass
11:00 am
Tuesday, February 23, 2021
The Church of Saint Martha
3800 Herbertsville Road
Point Pleasant, New Jersey, United States

Get Directions


Obituary of Reverand Gerald A. Marchand
Reverend Gerald A. Marchand,92
Reverend Gerald A. Marchand, 92, of Pt. Pleasant, NJ entered eternal rest at the Hackensack Meridian Heath Ocean Medical Center on Monday afternoon, February 15th. He was born on August 3rd, 1928 in Bayonne, NJ to the late Jeremie & Margaret Marchand.
Bud, as known to many, was formally educated at St. Vincent de Paul Grammar School in Bayonne, graduating in 1942, and at St. Peter's Prep, Jersey City from which he graduated in 1946. He entered Seton Hall College in South Orange receiving his B.A. in 1950. Later that year, he entered Immaculate Conception Seminary in Darlington, NJ for six years, During the years of 1941-1948 Bud was a member of the St. Vincent Cadets in Bayonne, NJ and in 1997 he wrote a book called All for One, One for All, which is the story of St. Vincent Drum and Bugle Corp.
On a day of joy in the Lord, Bud knelt before Archbishop Boland in St. Patrick's Pro Cathedral on May 29, 1954 and arose as Father Marchand.
He continued his studies at the Seminary and in 1975 he earned his Master of Divinity. He served as pastor at Saint Paul the Apostle Church in Irvington for 24 years, 1954-1978 and Our Lady of Lourdes Church in West Orange, NJ for 20 years, 1978-1998. After his retirement, he continued to serve as a priest at the Church of Saint Martha in Point Pleasant, NJ for 17 years.
Always close to Bud's heart was his membership with the Knights of Columbus in Point Pleasant Council #7926 and a previous member of the Irvington Knights of Columbus, and Bishop Wigger 4th Degree Assembly.
Bud has been an extension of God's love. He preached and lived to the tune of "Danny Boy" and "O Holy Night, which he sang often. He had a fondness for music, he loved to sing and had a great sense of humor. Bud was a friend to everyone and will be deeply missed by all, especially by his close friends and neighbors in Sunshine Harbor. In more recent years, Bud had devoted caretaker and friend, Baafoo Akoto Ampofo, whom he affectionately referred to as Bob.
Bud is survived by his sister Joan Konzelman of Gilbert, AZ; nephew Larry Konzelman and Sue Schrader of Mt. Bethel, PA; niece Debrah Lowe of Gilbert, AZ; niece Carol Barboni & Michelle Ford of New Hope, PA; nephew Brian Konzelman of Lake Hopatcong, NJ; nephew Mark Konzelman of Lake Hopatcong, NJ; niece Gail and Greg Beard of Phoenix, AZ. Bud is also survived by his great nieces and nephews; Beth & Tim Beardley (and their children Nate & Gabe), Laura & Justin Duffield, Chris Schrader, Jennifer & Michael Pinedo, Lori & Sunny Puri (and their son Jay), Liz Barboni, April Beard and Mitch Beard. He is also survived by his extended family, Steve and Bev Hoptay.
Bud's Life Celebration will include visitation at 10:30 to 11:00 AM, followed by a full Funeral Mass on Tuesday, February 23rd, at The Church of Saint Martha, 3800 Herbertsville Rd, Point Pleasant, NJ 08742. Interment will follow at St. Catherine Cememtery, 1100 West Chicago Blvd. in Sea Girt. In lieu of flowers, donations may be made to: Saint Martha Parish and/or Saint Vincent De Paul Society (SVDP-St. Martha, same address as Church) Arrangements are entrusted to The Dangler Funeral Home of West Orange, letters of condolence may be posted at danglerfuneralhome.com.
During the COVID 19 pandemic, all persons entering Church will be required to wear a face mask or face covering throughout their stay. Likewise, all social distancing rules must be adhered to.


Share Your Memory of
Reverand Gerald