---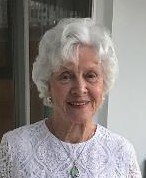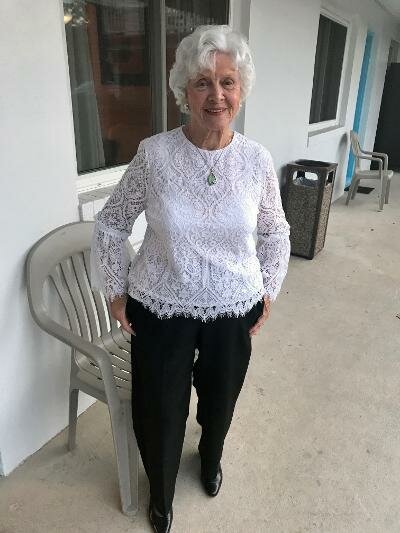 Visitation
4:00 pm - 8:00 pm
Tuesday, September 21, 2021
Dangler Lewis & Carey Funeral Home
312 W Main Street
Boonton, New Jersey, United States
(973) 334-0842
Funeral Mass
10:00 am
Wednesday, September 22, 2021
.Our Lady of Mt. Carmel
910 Birch Street
Boonton, New Jersey, United States
Entombment
11:15 am
Wednesday, September 22, 2021
Gate Of Heaven Mausoleum
225 Ridgedale Avenue
East Hanover, New Jersey, United States
(973) 887-0286


Obituary of Patricia Catherine Engleke
Patricia Catherine (Goodheart) Engleke, passed away peacefully surrounded by her loved ones at the age of 88 years old, on September 16, 2021.
Patricia, known to family and friends as Pat, Tricia, Trish was born in Jersey City on March 17, 1933, the fifth child of Nelson and Catherine Goodheart. Patricia attended St. Aedan's Catholic School and William J. Dickerson High School in Jersey City, New Jersey.
While Patricia was working at ACME, she took a vacation to Asbury Park, N.J.. She met a man in a bar and he was instantly in LOVE, Patricia, was instantly in I Like You Lots….They married on June 7, 1958 and were together for 59 years.
Their life was filled with children, family, friends and new adventures. They moved to the suburbs, bought a home and Patricia learned to drive, she loved her new independence. Patricia was a happy stay at home Mom. With her new independence, in the way of a New Jersey Drivers License, nothing was stopping her. She put the kids in the car and off they would go to her bowling league, the kids went to the bowling nursery room to play and she bowled with her friends. Patricia also found a tennis league and it turned out that she was very good at tennis. She played in quite a few tournaments. Besides her leagues, Patricia made the time to be a Brownie and Girl Scout Leader. She loved helping the girls do art projects, conduct meetings and complete badge tasks. When the local Church started a BINGO night, that became her alone time. Her husband would be home early that night, sandwiches for dinner and out the door she went. The children were always in bed before she came home, so it was a true "all about me" night. Sometimes she would travel with her sisters to other BINGO locations - they always followed the Jackpot Prize, and they loved every minute of being together.
Through her creativeness and fun spirit, Patricia is responsible for a family tradition that began on December 25, 1962, "The Annual Family Christmas Party." Patricia had a vision of how she wanted to celebrate Christmas and she made it a reality. Patricia opened her home to family, the food was plentiful, the drinks flowed, games were played and a visit from Santa bringing presents for everyone. The tradition has now included a third generation and the fun, laughter,excitement and love are the same as it was the first day.
Patricia traveled to so many places during her life with her husband, family and friends. She visited the Orient, Australia, New Zealand, Greece, Italy, Caribbean Islands, she loved it all. The bucket list that she had with her husband was to visit all 50 states...They were able to put a check next to that one.
Patricia was blessed with seven (7) grandchildren and one (1) great grandson. When we traveled in the car, she would make-up stories that would capture their full attention and they always began with, "Once Upon A Time".... They would say, "tell that story again, grandma", she would look up, smile and say, "Oh boy, I hope I remember what I said", a chuckle was had by all the Mom's. Patricia loved being a Grandmother, she played games with the children, which she usually made up and were never the same twice. One particular car game was when everyone in the car had to hold their breath and pretend to be swimming until we reached the other side of the bridge. She taught her grandchildren to play catch, soccer, hide-n-seek, freeze tag, jump rope to mention a few. Playing school was a real favorite with her younger granddaughters, they had make believe names, lessons, and art projects. Patricia wasn't just Grandma, she was their friend and they loved every second they had with her.
As you can see, this stay at home Mom, had a beautiful life filled with happiness and love. She found the good in everything and showed others how to do the same. She showed everyone how humor heals with dignity to make a difficult situation a little easier to handle. Patricia loved not with words but ACTIONS, smiles, and compassion. She always said, "I show love, I don't need to say it" and only Patricia could make that happen. You never were in her presence and questioned if she loved you or not. It was just known. Well Patricia, we will always love you. You had a 'WONDERFUL" life.
Patricia was predeceased by her son Raymond Joseph and husband Donald Joseph. Patricia is survived by her daughters: Catherine Carroll Engleke and Donna Kay Krystofiak. Her grandsons, Raymond and Zachary Evans, and Matthew Engleke. Her granddaughters Colleen and Alexandra Evans, and Mackenzie and Kyra Krystofiak along with her Great Grandson Brian Maccarone.
Visitation will be held on Tuesday, September 21, 2021 from 4-8 PM at The Dangler, Lewis and Carey Funeral Home, 312 West Main Street Boonton, NJ 07005. A Funeral Mass will be celebrated on Wednesday, September 22, 2021, at 10:00 AM, at Our Lady of Mt. Carmel Church, 910 Birch Street,Boonton, NJ. Interment will follow immediately at Gates of Heaven, East Hanover, NJ. In lieu of flowers the family asks that donations be made in Patricia Engleke's name to the Childhood Leukemia Foundation Childhood Leukemia Foundation


Share Your Memory of
Patricia