---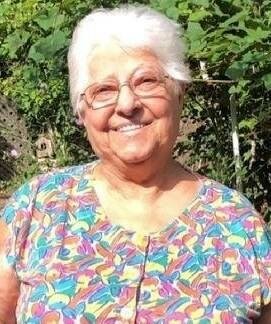 Obituary of Josephine Bacchetta
Josephine 84, of Boonton NJ, passed away peacefully on July 10, 2022 at the Morristown Medical Center surrounded by her family.
Visitation will be held on Friday, July 15 from 6:00PM to 9:00PM at the Dangler Lewis & Carey Funeral Home, 312 West Main Street Boonton, NJ 07005. Funeral srvices will also be held at the Dangler Lewis & Carey Funeral Home on Saturday July 16 from 10:00AM to 10:45AM. Interment will follow at St. Mary's Cemetery, Woonton Ave. In Boonton, NJ 07005.
Josie was born in Besoco, West Virginia, and grew up in a small town ironically called Josephine. This town was an appalachian hollow in coal mining country. Her home in West Virginia, like many, had no running water and used coal for heat. Sadly, two of her brothers died at a young age prior to becoming teenagers. Her father, who was a coal miner, died from surgery complications during her highschool years. Needless to say she grew up in hard times and had a much different way of life than we have today. Looking for new opportunities she moved to Boonton to live with her aunt and had various jobs in Boonton. She met her husband Ivo who was living with his family in Boonton and they eventually married. They soon moved to Montville and had two children. Josie was not involved in very many clubs or organizations but she was a committed wife and loving mother. Although she rarely attended church, she knew Jesus and believed in God. She loved her family and enjoyed taking care of their needs, always putting her children and grandchildren's needs ahead of her own which is probably the greatest demonstration of love. Josie enjoyed her TV shows, playing cards, doing puzzles, bingo, word search, and talking on her cell phone for hours but nothing compared to her joy and love for her five grandchildren. They all were special to her and loved them to pieces. She could not get enough of her grandchildren and was proud of all of them. Josie had a simple but fulfilling life, she loved hard until the end and now may she rest in peace.
Josephine was predeceased by her husband Ivo in 2010, she is survived by her son Antonio Bacchetta and his wife Deborah, her daugher Terina Drugac and her husband Todd, and her five grandchildren Antonio (Tony) Bacchetta, Marisa Bacchetta, Luke Drugac, Dean Drugac and Wade Drugac. She was very blessed to have so many close family and friends. In lieu of flowers donations can be made to the Leukemia and Lymphoma Society.


Share Your Memory of
Josephine